Things to do in North Pembrokeshire
Coastal Walks and Hikes: Explore the stunning coastal paths of North Pembrokeshire, such as the Pembrokeshire Coast Path. Enjoy breathtaking views of the sea, cliffs, and wildlife as you hike along the rugged coastline.

Kayaking and Coastal Adventures: Take advantage of the beautiful coastline by going kayaking. There are local operators that offer guided kayaking tours, allowing you to explore sea caves, arches, and hidden coves.

Beachcombing: Spend a relaxing day on the beaches, like Whitesands Bay, and enjoy beachcombing to discover seashells, unique rocks, and other coastal treasures.

Historical Sites: Visit historical gems like St. Davids Cathedral, a magnificent medieval cathedral, and Pembroke Castle, a grand fortress with a rich history. Both sites offer guided tours and insights into the region's past.

Whale and Dolphin Watching: Join boat tours that offer the chance to spot whales, dolphins, and seals in their natural habitat. These tours are not only educational but also provide a chance to see marine life up close.

Wildlife Reserves: Visit local wildlife reserves like the Welsh Wildlife Centre and the Teifi Marshes Nature Reserve. These places offer opportunities to see a variety of bird species and other wildlife.

Family-Friendly Beaches: Choose family-friendly beaches like Newport Sands, where you can relax, build sandcastles, and enjoy safe swimming.

Adventure Activities: If you're looking for a bit of adventure, you might consider coasteering—a mix of rock climbing, cliff jumping, and swimming along the coastline.

Local Pubs: Experience the local culture by visiting traditional pubs in the area. Some popular options include The Sloop Inn in Porthgain and The Ship Inn in Trefin. Enjoy local food and beverages in a charming setting.

Wildlife Exploration: Take guided wildlife tours to learn about the local flora and fauna. Look out for seabird colonies, seals, and other marine life that inhabit the shores.
Remember that it's always a good idea to check the availability and operating hours of attractions and activities in advance, especially if you're planning a visit during a specific season. Enjoy your time exploring the beautiful coastal areas and engaging in outdoor activities in North Pembrokeshire!
MON – TUES
2:0pm – 11:00pm
Wens-Thurs
4:00pm- 11pm
FRI- SAT
12pm-12am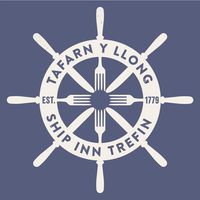 35 Ffordd Y Felin, Trefin, Haverfordwest SA62 5AX